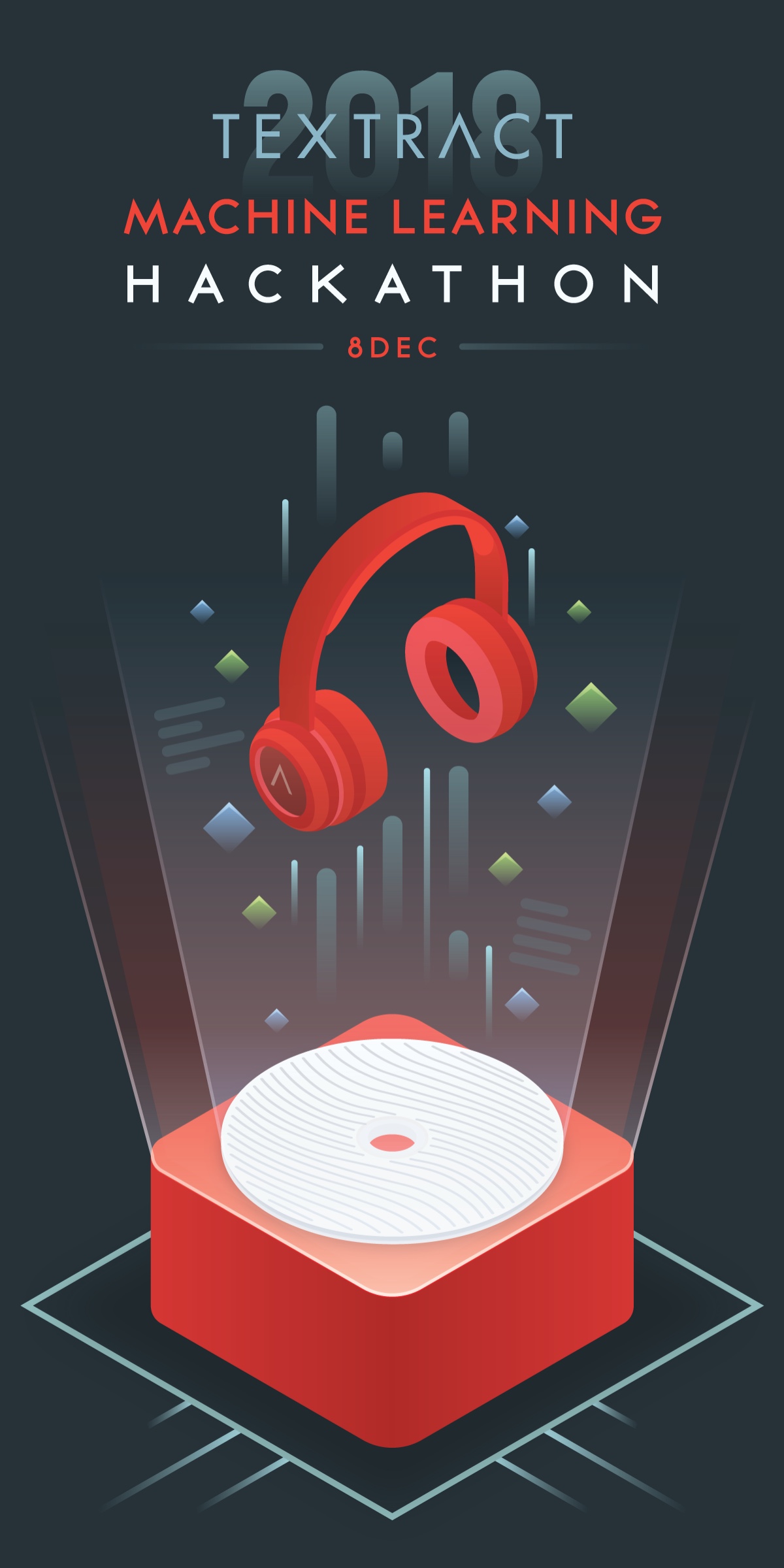 HACKATUNE IN
So no one told you it was gonna be this way, 👏
A new Textract edition is proudly underway!
Let's meet: 8th of December on a Saturday,
24 hour ride for you to plug and play.
Assemble your crew, make sure you come prepared,
You have to show them that you're really not scared.
You'll tackle 99 problems, but datasets ain't one,
We know developers don't just wanna have fun.
To help you figure out exactly what this means,
It involves prediction, song lyrics and algorithms.
Whatever happens, don't leave it all to chance,
Find creative ways to address this circumstance.
Let the drums roll, everything's gonna be alright!
At midnight get up! Stand up! Don't give up the fight!
If you hit a bump, you know the show must go on!
The coolest ideas may win this hackathon!
You may say we are dreamers, but we're not the only ones,
Of course, a Machine Learning competition is not for everyone,
But if we're alike from many points of view
All we want for Textract is you!
05 Dec 2018

application deadline

08 Dec 2018

event

15 Dec 2018

presentations

19 Dec 2018

winners announcement

07 Dec 2023

today
LINEUP
Bachelor's, Master's or PhD students | Fresh graduates
VENUE
HACKATHON: Sparktech Office, Str. Vulturilor 98A, GRAWE
PRESENTATIONS: Amfiteatrul Titeica – FMI|UniBuc (Str. Academiei 14)
WALKTHROUGH
Form a team of 2-4 members.
Choose an unique name for your team.
Sign up and save the date in your calendar.
When the alarm goes off that day, wake up inspired and ready to rock.
Bring your laptops. We'll provide 220 and WiFi.
Aim hackathonward.
Experiment. Collaborate. Extract. Connect the dots.
Hand in your work 24h later.
Take your time to prepare your presentation.
Showcase your results on Dec 15th.
The best solutions will be rewarded with prizes worth a total value of $1500.
Win!
SCHEDULE
8-9 DECEMBER – Hackathon
09:00 – Welcome! Time for your setup
09:30 – Intro: Hackathon details
10:00 – Action! (round one)
14:00 – Pause if you like big buns and you cannot lie: it's burger time!
14:30 – Action! (round two)
19:00 – Take a break in the name of Cheesus Crust: it's pizza time!
19:30 – Action! (round three)
07:30 – Dough know, dough care, for goodness' bakes!
10:00 – Night shift is over: good morning & good night!
15 DECEMBER – Presentations
10:00 – Reveal your work (round one)
12:30 – Pause for applause
12:45 – Reveal your work (round two)
EDITIONS
Submissions
asdfghj
CN2
Red Hot Classified Peppers
Overflow
Coiotii
BoringTeam
Armix
Palermo
DAMnn
NoClue
dubitaCuBomboane
The Dropouts
Word2Bec
Standard Deviation
No Segmentation Fault
Winners
Joy to the world, the time has come,
To reveal this year's edition outcome.
But first we want to thank everyone
That worked to textract and also had fun!
O come, all ye faithful,
Sparktech is oh so grateful,
For the energy you bring
Hackathonly in sync.
Rockin' around the Christmas tree
Let the Textract spirit ring
Later we'll have some pumpkin pie
And we'll do some caroling.
Task 1 Accuracy
Task 1
Task 2
Total
1
Armix
61.24%
60
35
95
2
Red Hot Classifier Peppers
57.91%
53
35
88
3
Palermo
61.08%
59
20
79
4
dubitaCuBomboane
58.34%
54
22
76
5
Overflow
58.66%
55
20
75
6
Standard Deviation
52.85%
43
30
73
1st place:
Armix /
prize: $1000
2nd place:
Red Hot Classified Peppers /
prize: $500